BEGINNING TEACHER WORKSHOPS

Specifically designed for teachers in their first 5 years of teaching.
From 9th to 20th of January 2023 we are running a series of beginning teacher workshops over 10 different areas of teaching via intensive live mentoring sessions.
All training is aligned to the AITSL standards so you can use it for your teacher registration for graduate and proficiency levels. Teaching strategies, tools and techniques are all evidence based and linked to the Australian Curriculum 9.0 and across each state and territory.
Access a mentor with over 20 years teaching experience and teaching tools that include latest research and evidence based research on NLP, behaviour psychology, neurodiversity and learning development.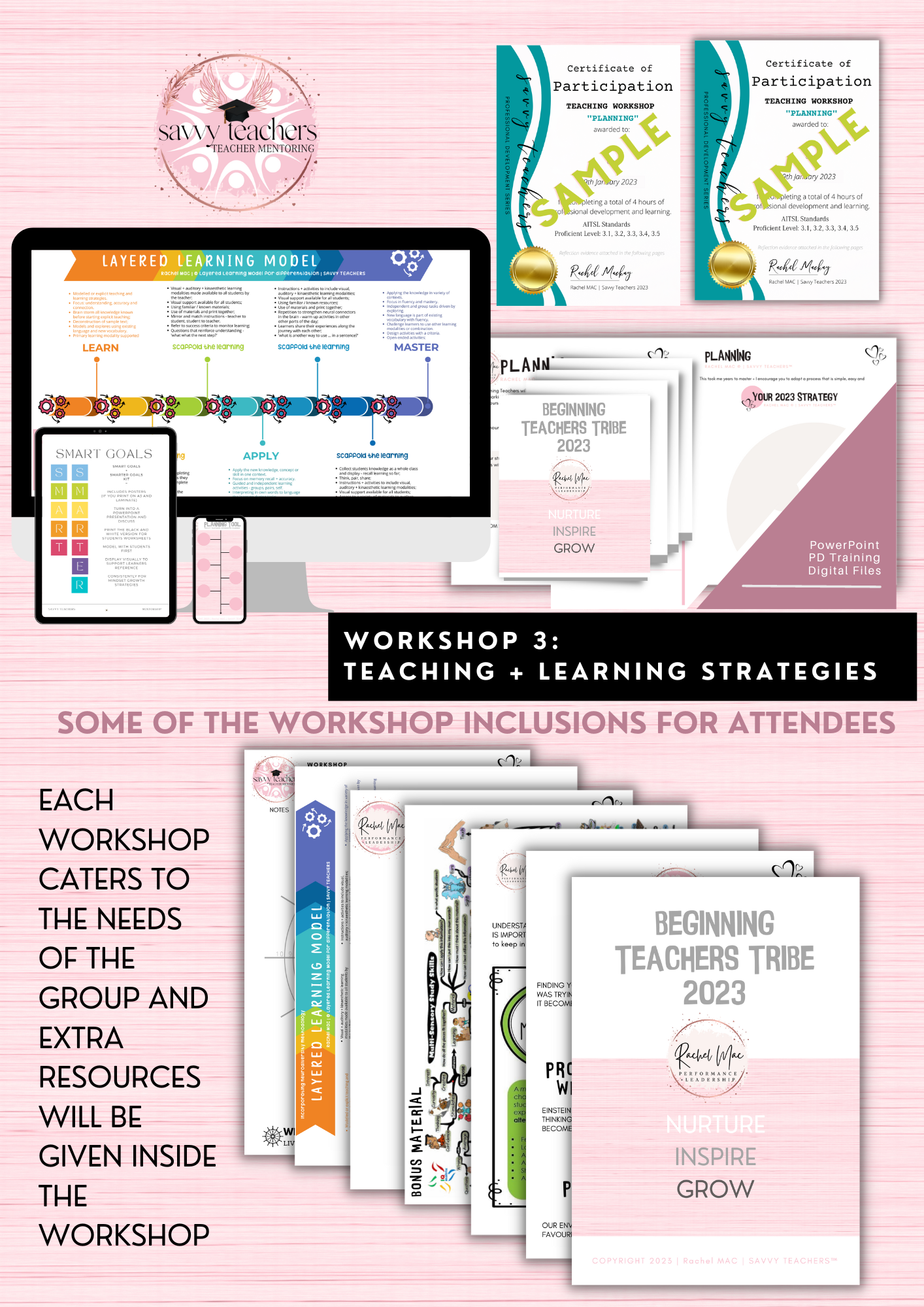 WORKSHOP 3:
TEACHING + LEARNING STRATEGIES

10am - 12pm AEST. 17th January 2023

AITSL standards: 1.1, 1.2, 1.4, 1.5, 2.1, 2.2, 2.3, 2.5, 3.1, 3.2, 3.3, 3.4, 3.5, 3.6, 3.7

If you struggle with identifying effective strategies for learning tasks, then this workshop is for you!!!
Unpack a range of effective teaching + learning strategies.
Get clarity on which strategies are best suited for specific learning styles and activities.
Plan lessons knowing you can cater to over 80% of your learners without meeting them!
Build your confidence in teaching with the T.E.A.C.H. Model.
Understand the power of language to increase engagement.
Unpack explicit teaching, inquiry learning and more...
Understand learning intensions and success criteria.
The T.E.A.C.H. MODEL will change your teaching and boost your confidence.... I PERSONALLY GUARANTEE IT.

2 hour intensive interactive teacher workshop.
Includes 4 hrs Professional Development.

End the workshop with the clarity you thought university would have given you!!!



10 x Workshops Bundle
Attending all 10 of the teacher workshops will give you the best opportunity to set yourself up for the year ahead. You will have mentoring in over 10 areas of teaching + the tools to navigate those challenging times you aren't aware of yet!
BONUS
Receive the ULTIMATE TEACHER TOOLKIT free (which has over 180 tools and training videos included).
2 weeks of exclusive mentoring in our private group.
QnA Sessions with me inside our group.
Manage Your Professional Development Workshop - FREE
If you attend all 10 workshops, you will have certificates for each workshop that shows 40 hours of CPD for your teacher registration.
VALUED @ OVER $800.... reduced to $249
limited places available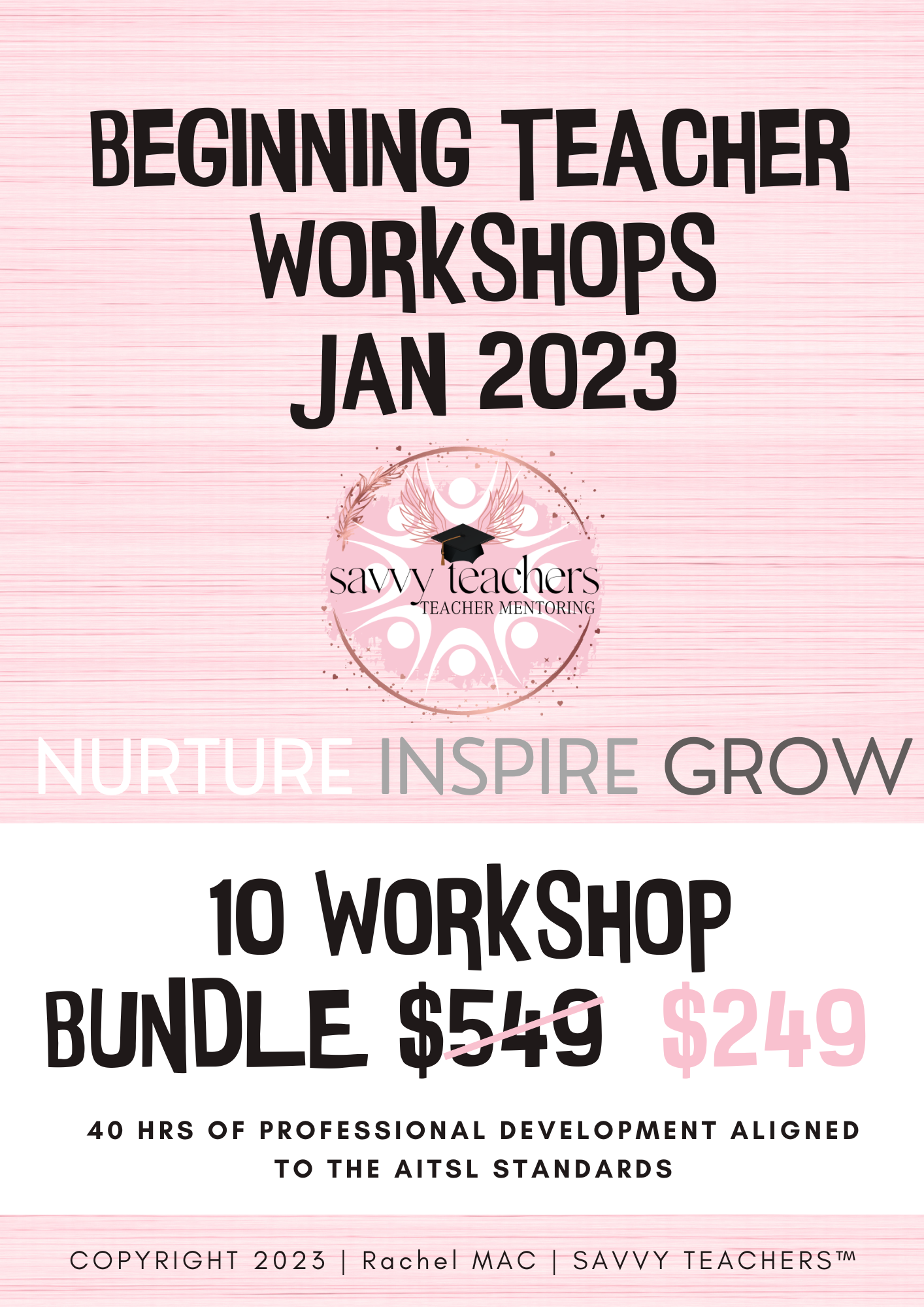 HOW ARE THE WORKSHOPS RUN?
The workshops are going to be live online using 'zoom'. The workshops are recorded and you will need to accept the terms when it comes up on the screen.
ARE THE WORKSHOPS SUITABLE FOR TEACHERS IN ANY STATE?
Yes they are designed around the national teaching standards AITSL and relevant to the curriculum and content you use in individual states and grades.
CAN I CLAIM AT TAX TIME?
Yes hold onto your receipts and claim as a tax expense for your teaching career.
HOW DO I ACCESS ANY RESOURCES THAT COME WITH THE WORKSHOP?
Once you secure your spot by purchasing a ticket, you will receive an email and link to items so you are all ready for the workshop. If any resources are given away during the workshops, you will receive them inside the workshop via a link or inside the support group.
IF I LIKE THE WORKSHOPS, CAN I UPGRADE TO THE MENTORSHIP PROGRAM?
Yes you can and what you paid to attend the workshops, you will receive discounted OFF the price of the mentorship program... please contact me to organise this discount for you. Below is a sneak peak into the behaviour management area that is part of the mentorship program.