BEGINNING TEACHER WORKSHOPS

Specifically designed for teachers in their first 5 years of teaching.
From 9th to 19th of January 2023 we are running a series of beginning teacher workshops over 10 different areas of teaching via intensive live mentoring sessions.
All training is aligned to the AITSL standards so you can use it for your teacher registration for graduate and proficiency levels. Teaching strategies, tools and techniques are all evidence based and linked to the Australian Curriculum 9.0 and across each state and territory.
Access a mentor with over 20 years teaching experience and teaching tools that include latest research and evidence based research on NLP, behaviour psychology, neurodiversity and learning development.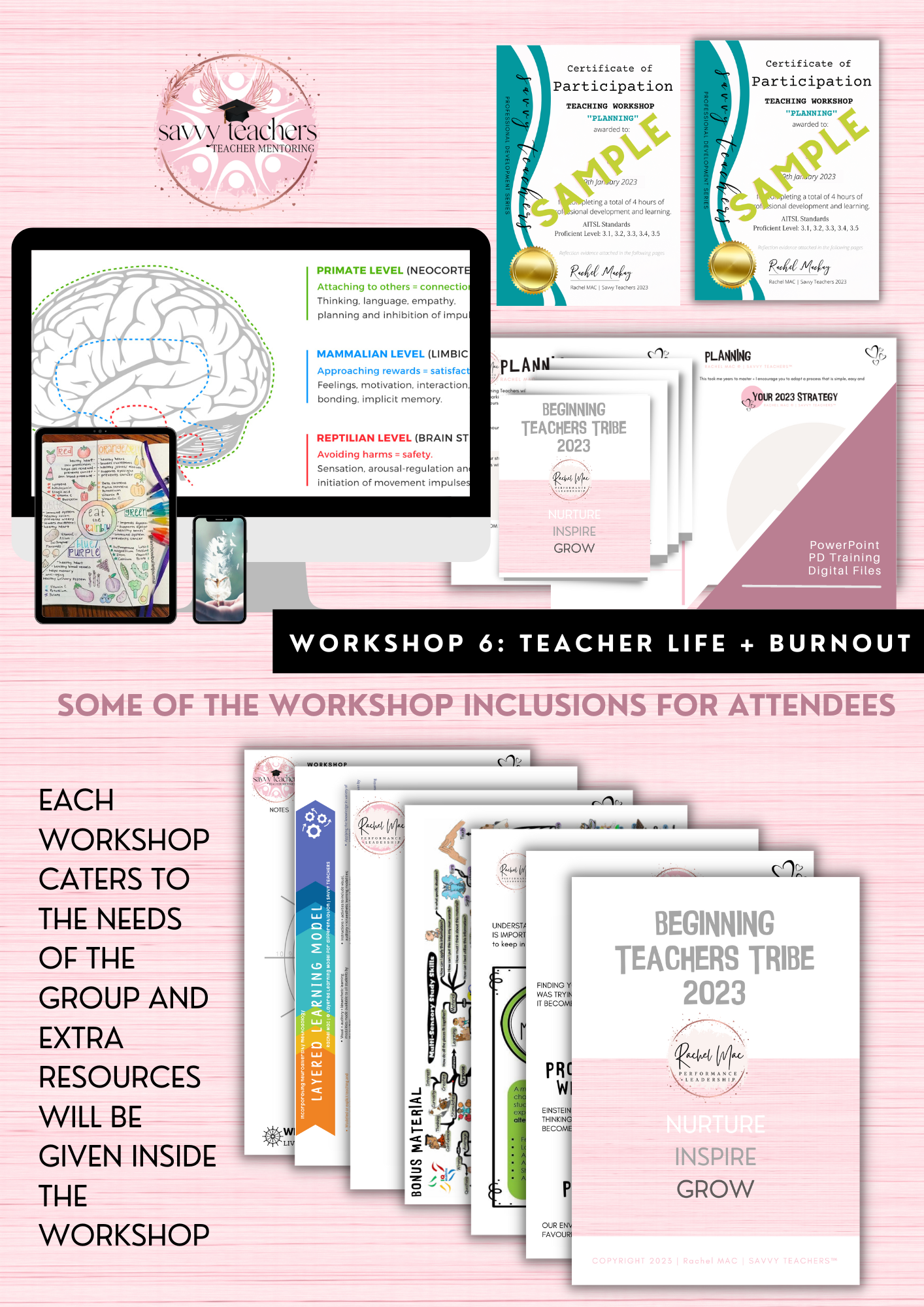 WORKSHOP 6:
MANAGE YOUR TEACHER LIFE + PREVENT TEACHER BURNOUT

1pm - 3pm AEST 18th January 2023
AITSL Standards 1.2, 6.1, 6.4, 7.4, 
Your health is everything and I have learnt some savvy tips to manage energy and maintain my passion for teaching;
Managing your teacher life takes a juggling act and I share my strategies;
Have clarity around what burnout feels like in order to prevent and manage it early;
Collaborate with peers to design your burnout prevention plan for the next 12 months;
Identify your strengths and areas that could drain you, in order to prevent burnout;
You will understand the importance of your mindset, mental fitness and energy management;

INCLUSIONS ARE:
2 hours of Intensive Mentoring
Workbook + Teaching Tools from the Workshop
Professional Development Kit with certificate + 4 hours of PD
Mentoring Community Group for 2 weeks
Bonus QnA Sessions with me
Beginning Teacher Checklist to navigate the next 12 months


10 x WORKSHOP BUNDLE

Attend all 10 workshops for $249 (valued @ $547)
Access to the recordings of all 10 workshops ($250)
100% tax deductible
Professional Development Kits + certificates for 40 hours of PD
2 weeks of Mentoring in Exclusive Support Group ($200)
Bonus QnA sessions with Me ($250)
BONUS Workshop: Managing Your Professional Development - Map the Year Ahead ($59)
Extensive Teacher Checklist for the next 12 months ($49)
BONUS Kit: TEACHER'S TOOLBELT with over 180 teaching tools and resources with training for implementation ($129)
UPGRADE TO THE MENTORSHIP PROGRAM AND RECEIVE $249 OFF THE JOINING FEE
(email [email protected] to accept the offer)