BEGINNING TEACHER WORKSHOPS

Specifically designed for teachers in their first 5 years of teaching.
From 16th to 20th of January 2023 we are running a series of beginning teacher workshops over 10 different areas of teaching via intensive live mentoring sessions.
All training is aligned to the AITSL standards so you can use it for your teacher registration for graduate and proficiency levels. Teaching strategies, tools and techniques are all evidence based and linked to the Australian Curriculum 9.0 and across each state and territory.
Access a mentor with over 20 years teaching experience and teaching tools that include latest research and evidence based research on NLP, behaviour psychology, neurodiversity and learning development.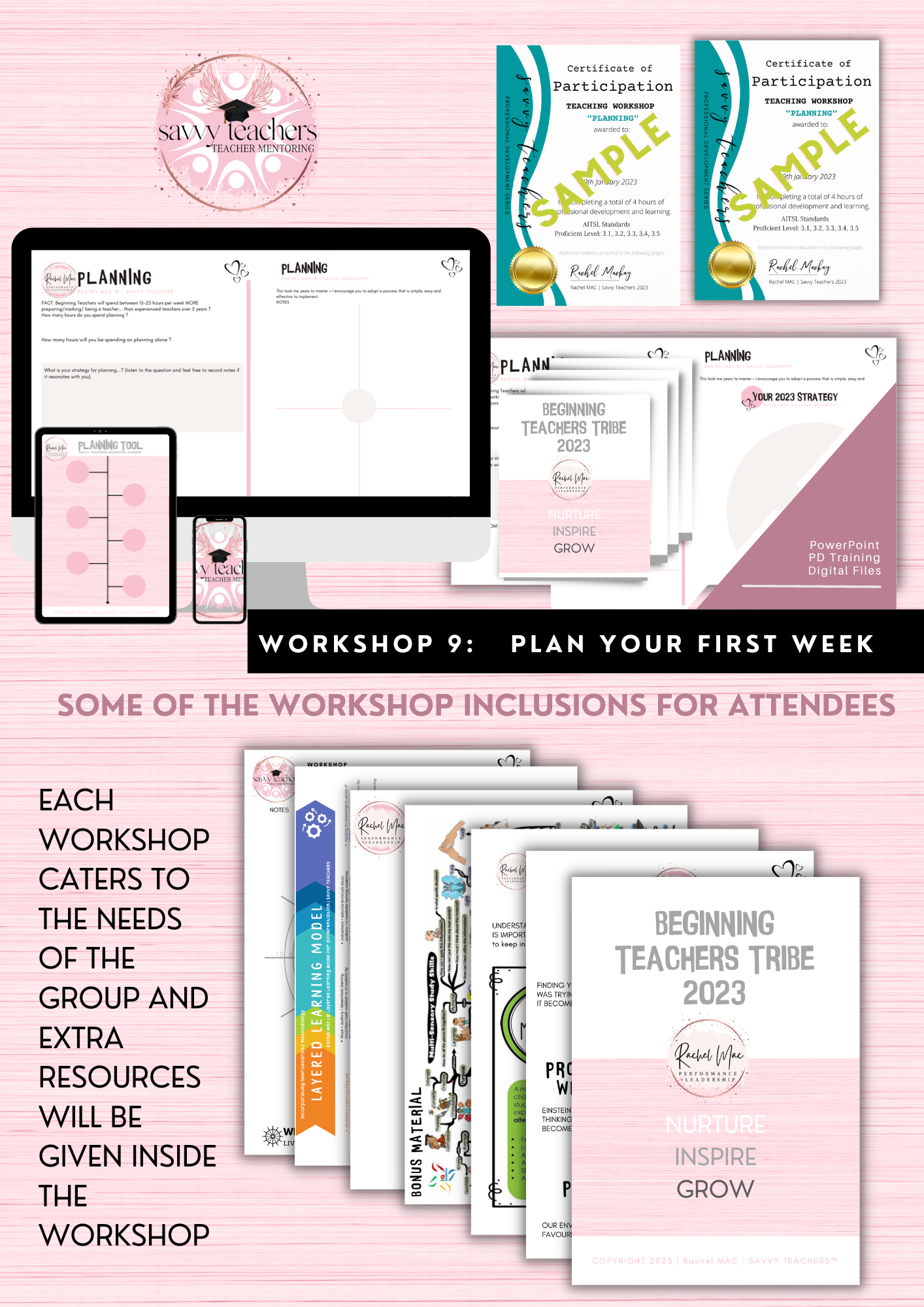 Workshop 9:
PLAN YOUR FIRST WEEK

10am - 12pm AEST 20th January 2023
AITSL Standards 1.1, 2.3, 2.5, 3.3, 3.4, 3.5, 3.6, 4.1, 4.2, 4.4, 5.1, 5.3, 5.4,
If you are feeling overwhelmed about starting your first week of teaching, then you will find this workshop extremely valuable.
Set up your teaching compass for the week ahead;
Unpack the week with a timetable, set of outcomes to achieve and planned assessments linked to the curriculum;
Select the most effective learning activities and map the overview for the full week;
Collaborate with peers to draft real life implementation plans with mentor guidance;
Identify each area that requires policies, processes and structures for your learning environment;
Map classroom organisation aligned to your students and professional requirements;

INCLUSIONS ARE:
2 hours of Intensive Mentoring
Workbook + Teaching Tools from the Workshop
Professional Development Kit with certificate + 4 hours of PD
Mentoring Community Group for 2 weeks
Bonus QnA Sessions with me
Beginning Teacher Checklist to navigate the next 12 months


10 x WORKSHOP BUNDLE

Attend all 10 workshops for $249 (valued @ $547)
Access to the recordings of all 10 workshops ($250)
100% tax deductible
Professional Development Kits + certificates for 40 hours of PD
2 weeks of Mentoring in Exclusive Support Group ($200)
Bonus QnA sessions with Me ($250)
BONUS Workshop: Managing Your Professional Development - Map the Year Ahead ($59)
Extensive Teacher Checklist for the next 12 months ($49)
BONUS Kit: TEACHER'S TOOLBELT with over 180 teaching tools and resources with training for implementation ($129)
UPGRADE TO THE MENTORSHIP PROGRAM AND RECEIVE $249 OFF THE JOINING FEE
(email [email protected] to accept the offer)

ARE THE WORKSHOP DESIGNED FOR BEGINNING TEACHERS?
They workshops are designed for pre-service graduate and teachers in their first 5 years of teaching. They align with the AITSL standards for graduate and proficiency levels with the certificates listed the standards and you can use the hours for your teacher registration in each state.
HOW ARE THE WORKSHOPS RUN?
The workshops are going to be live online using 'zoom'. The workshops are recorded and you will need to accept the terms when it comes up on the screen.
ARE THE WORKSHOPS SUITABLE FOR TEACHERS IN ANY STATE?
Yes they are designed around the national teaching standards AITSL and relevant to the curriculum and content you use in individual states and grades.
CAN I CLAIM AT TAX TIME?
Yes hold onto your receipts and claim as a tax expense for your teaching career.
HOW DO I ACCESS ANY RESOURCES THAT COME WITH THE WORKSHOP?
Once you secure your spot by purchasing a ticket, you will receive an email and link to items so you are all ready for the workshop. If any resources are given away during the workshops, you will receive them inside the workshop via a link or inside the support group.
IF I LIKE THE WORKSHOPS, CAN I UPGRADE TO THE MENTORSHIP PROGRAM?
Yes you can and what you paid to attend the workshops, you will receive discounted OFF the price of the mentorship program... please contact me to organise this discount for you. Below is a sneak peak into the behaviour management program that is free inside the mentorship program.